Officer of the Month – Patrolman Joseph Longo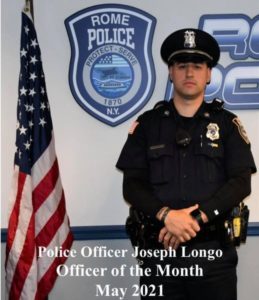 On May 14th, 2021 at about 10:42 PM, Patrolman Joseph Longo observed a black Ford Sedan side-swipe a parked vehicle in the 400 block of West Thomas Street. The suspect vehicle did not stop despite the contact made with the other vehicle. Patrolman Longo attempted a traffic stop on the vehicle, which led to a short vehicle pursuit. The suspect vehicle stopped in the 300 block of North George Street, and after a brief confrontation between officers and the suspect, the suspect was taken into custody. Patrolman Longo then observed a loaded handgun magazine on the driver seat of the vehicle. A subsequent search of the vehicle led to the recovery of a defaced .380 Ruger LCP handgun, with a round in the chamber. A search of the suspect's person yielded a quantity of crack cocaine. The suspect was subsequently charged with Criminal Possession of a Weapon 2nd, Criminal Possession of a Weapon 3rd, and Criminal Possession of a Controlled Substance 5th, all felonies.
Patrolman Longo's situational awareness and attention to detail directly led to the recovery of an illegal handgun and a quantity of narcotics. Patrolman Longo's actions have brought great credit to himself, the Rome Police Department, and law enforcement as a whole.