Rome Police Reform and Reinvention Collaborative
Comments regarding the Rome Police Reform and Reinvention Collaborative should be submitted to policereform@romepd.com
New York State law requires all drivers and passengers wear seat belts, regardless of where they sit in the vehicle. Further, stretch limousines already on the road will be required to include seatbelts at every seat by January 2023.
On Wednesday, October 7, 2021, members of the Rome Police Department patrol division responded to a report of a criminal mischief complaint involving racially derogatory comments spray painted on a garage door.
If you have questions please contact the Rome Police Department at (315) 339-7780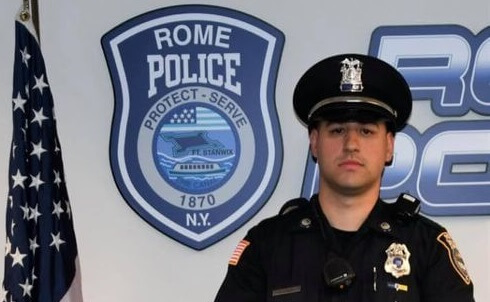 Patrolman Joseph Longo
Member of the Force: 7 Years
Patrolman Longo's situational awareness and attention to detail directly led to the recovery of an illegal handgun and a quantity of narcotics.

The Center for Family Life and Recovery, Inc., the Oneida County Sheriff's Office, Rome Police Department and Utica Police Department are working together in collaboration to "Take Back" unused/or expired prescription and over-the -counter medications, including pet medications by offering a drive-through event.