Special Response Team (SRT)
The Rome Police Department Special Response Team was established in 1999. The Special Response Team was formed for the purpose of responding to and resolving situations for which specialized training and equipment is required. This would include high-risk incidents such as hostage situations, barricaded persons, search and arrest warrants, high-risk rescue, intelligence collection, and dignitary security.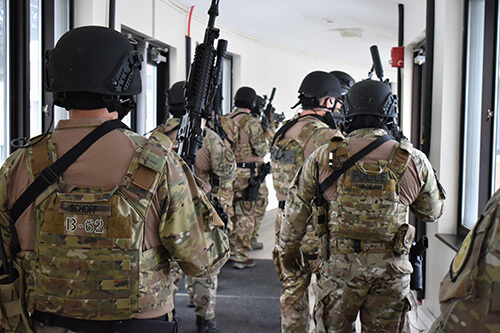 Cheyenne Schoff
Deputy Chief
301 N. James Street
Rome, NY 13440
Phone: (315) 339-7797
schoffc@romepd.com
Rome Police Reform and Reinvention Collaborative
Comments regarding the Rome Police Reform and Reinvention Collaborative should be submitted to policereform@romepd.com
The Rome Police Department announces the return of Law Enforcement Day on July 23, 2022.
The Mohawk Valley Crime Stoppers Wanted Person of the Week is a 30-year-old male wanted on multiple charges, including 2 counts of Acting in a Manner Injurious to a Child, according to Rome Police.
Between September of 2020 and October of 2021, Nash was allegedly involved in several domestic incidents resulting in 2 arrest warrants and one bench warrant being issued, according to Rome PD Captain Kevin James. Nash has not only been involved in Domestic incidents, but has also violated court orders by numerous unwanted telephone threats and voice messages, according to James.