Prescription Medication Drop Box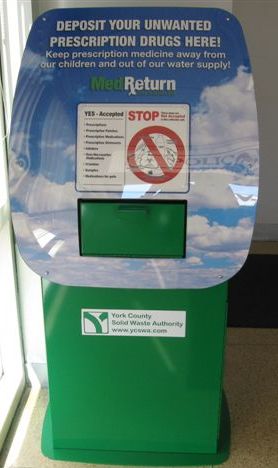 The Prescription Medication Drop Box is located in the lobby of the Rome Police Department, 301 N. James St in Rome, NY and it has proven to be an effective tool in removing narcotics from the street and the ecosystem. Anyone wishing to dispose of unwanted prescription medication can bring the drugs to the Rome Police Station at any time, 24 hours a day, and place them into the Drop Off Box. No questions asked. ***Hypodermic needles are not accepted in the drop box.
For more information and other locations throughout Oneida County, NY, please click here
ONEIDA COUNTY SHARPS DISPOSAL LOCATIONS
Mohawk Valley Health System (MVHS)
FSLH Energy Center Located on the St. Luke's Campus
1656 Champlin Ave, New Hartford NY 13413
Monday-Sunday, 7 AM-3 PM
Center for Rehabilitation and Continuing Care Services (CRCCS) (St. Luke's Campus)
1650 Champlin Ave, Utica NY 13502
Monday-Sunday, 7 AM-3 PM
St. Elizabeth Medical Center (SEMC) Hospital Services Department (In the Basement)
2209 Genesee St, Utica NY 13501
Monday-Friday, 8 AM-4 PM
*Please bring items in a puncture-proof container, clearly marked "sharps". For more information call the FSLH Energy Center at 315-624-6186 or SEMC Hospital Services at 315-801-8249.
Rome Memorial Hospital (At the information desk in the front lobby)
1500 N James St, Rome NY 13440
Monday-Sunday 6 AM-11 PM
(Sharps must be in appropriate containers and labeled "sharps". If you have any questions please call 315-338-7000)
Kevin James

Detective Commander
301 N. James Street
Rome, NY 13440
Phone: (315) 339-7715
jamesk@romepd.com
Rome Police Reform and Reinvention Collaborative
Comments regarding the Rome Police Reform and Reinvention Collaborative should be submitted to policereform@romepd.com
New York State law requires all drivers and passengers wear seat belts, regardless of where they sit in the vehicle. Further, stretch limousines already on the road will be required to include seatbelts at every seat by January 2023.
Officer Exam Announcement
This position is responsible for the enforcement of laws and ordinances and protection of lives and property in a designated area of an assigned shift; does related work as required. Duties consist primarily of routine patrol tasks, assisting in investigation of criminal offenses and the apprehension of criminals.