The Detective Division is responsible for all types of felony investigations, including narcotics and other special investigations. Some of these investigations are assigned to the detective division due to the nature and type of special circumstances involved. This includes misdemeanor crimes as well as violations if so warranted. It is the responsibility of the detective division to initiate and pursue investigations, apprehend offenders, develop intelligence on criminal activity, cultivate informants, establish and maintain mutually cooperative relationships with other criminal justice agencies, assist in investigations being conducted by the patrol and other divisions, recover stolen property and complete many other tasks.
The detective division also manages and maintains the Rome Police Department Sex Offender Registry and the Pawn Shop Database.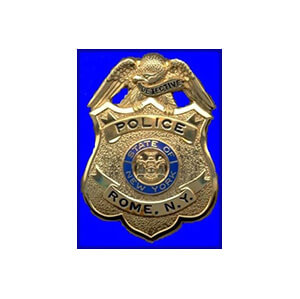 Kevin James
Detective Commander
301 N. James Street
Rome, NY 13440
Phone: (315) 339-7715
jamesk@romepd.com
Rome Police Reform and Reinvention Collaborative
Comments regarding the Rome Police Reform and Reinvention Collaborative should be submitted to policereform@romepd.com
New York State law requires all drivers and passengers wear seat belts, regardless of where they sit in the vehicle. Further, stretch limousines already on the road will be required to include seatbelts at every seat by January 2023.
Officer Exam Announcement
This position is responsible for the enforcement of laws and ordinances and protection of lives and property in a designated area of an assigned shift; does related work as required. Duties consist primarily of routine patrol tasks, assisting in investigation of criminal offenses and the apprehension of criminals.