The Detective Division is responsible for all types of felony investigations, including narcotics and other special investigations. Some of these investigations are assigned to the detective division due to the nature and type of special circumstances involved. This includes misdemeanor crimes as well as violations if so warranted. It is the responsibility of the detective division to initiate and pursue investigations, apprehend offenders, develop intelligence on criminal activity, cultivate informants, establish and maintain mutually cooperative relationships with other criminal justice agencies, assist in investigations being conducted by the patrol and other divisions, recover stolen property and complete many other tasks.
The detective division also manages and maintains the Rome Police Department Sex Offender Registry and the Pawn Shop Database.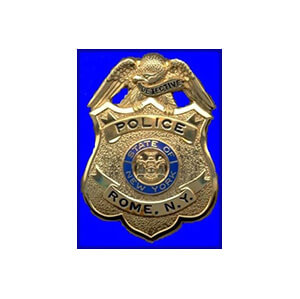 Kevin James
Detective Commander
301 N. James Street
Rome, NY 13440
Phone: (315) 339-7715
jamesk@romepd.com
Rome Police Reform and Reinvention Collaborative
Comments regarding the Rome Police Reform and Reinvention Collaborative should be submitted to policereform@romepd.com
Rome Police Department presents: A night with santa
Come have your child's picture taken with Santa on Wednesday, December 15, 2021 at Redeemer Church. Redeemer Church located at 129 N Washington Street will be hosting the Rome Police Department's "A Night with Santa" event. The event will be from 5PM till 7PM, hope to see you there!!
Utica Police are asking for the public's help in finding a man wanted on more than 10 bench warrants. 29 year old Jamie S. Wright of Utica is facing charges of Harassment, Criminal Mischief, Criminal Contempt 2nd Degree, stemming from alleged domestic violence incidents in the city of Utica, according to Utica Police Sgt. Michael Curley.