The Rome Police Department's Mountain Bike Patrol has been a community policing operation since its inception in 1995.  The objective of this unit is to patrol areas of the city that are not accessible to patrol vehicles.  City parks, recreation areas, school grounds and the Mohawk River trail system are some of the locations that are patrolled by bicycle.  The mountain bike patrol is a great benifit to both the community and the police department as it allows the police officer to interact directly with the public and also expands the patrol capabilities of the police department.
Members of this unit also conduct presentations and exhibitions for many community and civic groups throughout the city.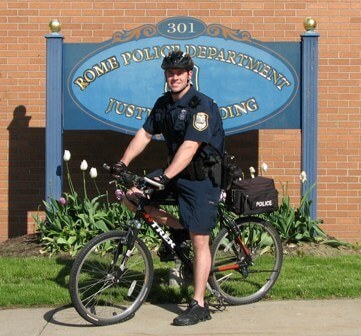 Nick Martin
Lieutenant
301 N. James Street
Rome, NY 13440
Phone: (315) 339-7701
martinn@romepd.com
Rome Police Reform and Reinvention Collaborative
Comments regarding the Rome Police Reform and Reinvention Collaborative should be submitted to policereform@romepd.com
New York State law requires all drivers and passengers wear seat belts, regardless of where they sit in the vehicle. Further, stretch limousines already on the road will be required to include seatbelts at every seat by January 2023.
Officer Exam Announcement
This position is responsible for the enforcement of laws and ordinances and protection of lives and property in a designated area of an assigned shift; does related work as required. Duties consist primarily of routine patrol tasks, assisting in investigation of criminal offenses and the apprehension of criminals.